Step into the perfect example of modern elegance with Ekana Ontario lucknow, the latest luxury Ekana Ontario flats from Ekana in Lucknow. Immerse yourself in a world of quality and design like no other, enriched with luxurious modern amenities that will make you feel right at home. Enjoy stunning views of the city skyline , as well as access to on-site recreational facilities that are designed for your comfort and convenience. Whether you're looking for an investment property or a place to call your own in an up-and-coming neighborhood, Ekana Ontario is where you want to be. Find Ekana Ontario lucknow brochure
Ekana Ontario lucknow
Luxurious Penthouse -- Super Area - 4599.28SQFT | Covered Area - 3537.91SQFT | Carpet Area - 2727.38 SQFT
Luxurious Sky Villa -- Super Area - 6301.14 SQFT | Covered Area - 4847.03 SQFT | Carpet Area - 3968.58 SQFT
Luxurious 4 BHK + Servant Apartments -- Super Area - 3336.54 SQFT | Covered Area - 2566.57 SQFT | Carpet Area - 2069.59 SQFT
Luxurious 3 BHK + Servant Apartments -- Super Area - 2484.21 SQFT | Covered Area - 1910.93 SQFT | Carpet Area - 1444.96 SQFT
Come explore the unmistakable charm of Ekana Ontario, Lucknow! Home to some of the most luxurious and affordable residential properties in Uttar Pradesh. With easy access to the city's vibrant culture, modern amenities, and recreational facilities. .
Ekana Ontario
Ekana Ontario is a perfect place to invest in your dream home. Our well-planned township offers diverse residential offerings with highly attractive prices. Let us help you write your story and start a new chapter of life at Ekana Ontario!
Club House
Departmental Store
Unisex Gym
Swimming Pool
Jogging Track
Indoor Games
Yoga/ Meditation Room
Aerobic Centre
Kids Play Zone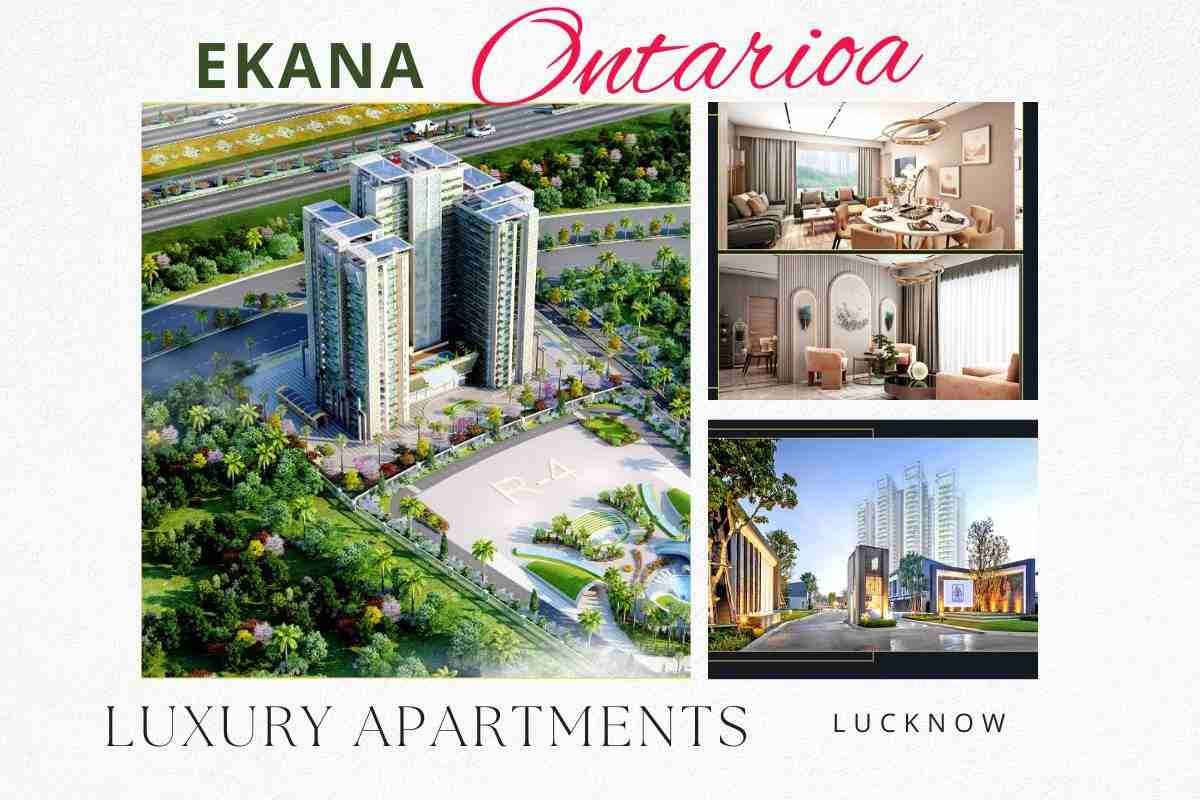 Live the life of luxury at Ekana Ontario in Gomti Nagar Extension! Our exquisite 3 BHK flats provide modern luxury and comfort. These spectacular properties boast stunning design, sumptuous décor, and beautiful views. Enjoy a luxurious lifestyle with amenities such as 24/7 security, club house, swimming pool, and much more. With spacious bedrooms, stunning open-plan living & dining areas and plenty of natural light throughout – these elegant properties are the perfect combination of style and comfort that you deserve. For more details kindly connect +91-7526-085-233 .